Special Events
Please check back often for upcoming special events such as group outings to local sporting events and new program offerings.
All Ability Athletes
3-5 yrs & Parent
Enjoy 6 weeks of parent/child classes which serve as an introduction to the wonderful world of sports! Skills and drills will be incorporated to introduce your child to a variety of sports. Sports include, but are not limited to, soccer, basketball, and t-ball. Children and parents will also enjoy playing classic games and some new ones too! Emphasis will be placed on following directions, cooperation, gross motor coordination & skills, and having fun. This inclusive class is appropriate for children ages 3-5 with a parent/guardian. Class instruction begins at 5:30pm. Parents and children are encouraged to enjoy free play and socialization for 15 minutes prior to class.
Monday evenings: 5:15pm-6:15pm
March 3-April 7
$107 JCC Members/$124 Guests
Please contact Jessica Walder, Assistant Director of Special Needs Services at 973-530-3507 or jwalder@jccmetrowest.org or
Sherri Feldscher, Sports & Recreation Director at 973-530-3425 or sfeldscher@jccmetrowest.org for additional information or to register.
VACATION PROGRAMS
PreSchool Sports and Fun Camp
Fun filled half day including sports and games in the gym. Hoops, balls, b
ean bags, parachute, scooters, soccer, t-ball, basketball and playtime in the pool.
Drop off and pick up in the Margulis Gymnasium
Please send a kosher peanut free dairy lunch
Please wear bathing suit and bring a towel and underwear. (Mark all belongings with child's name)
Nursery school closed Passover. Please send a peanut free Kosher for Passover lunch. Must be 3 years old by November 2013.
Thursday, April 17 - 9:00am - 1:00pm
For more information or to register contact Sherri Feldscher at
973 530 3425 or email sfeldscher@jccmetrowest.org
Register online at jccmetrowest.org
Cardio Tennis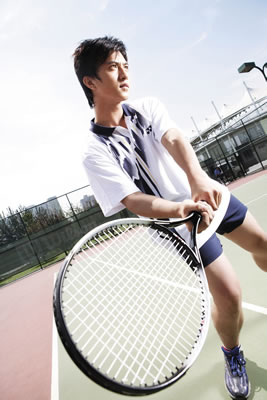 Cardio Tennis is a series of tennis-based drills and activities played to up-tempo music. Cardio tennis does not require advanced tennis skills and is all about keeping your heart rate up, burning calories, and having fun!
Cardio Tennis includes a warm-up, cardio workout, and cool down phases. If you are looking for a great new way to get in shape, burn calories, and improve your tennis game, why not try Cardio Tennis?
Much More Fun Than Gym Workouts!
Children's Fun Run
Children Age 5-10
A fun Run for a great start to a healthy and fit life!
Join us for a program that includes proper stretching and warm up techniques and other fun fitness activities. Each runner will receive a certificate and a medal.
This program is FREE!

Sunday, April 6
Sunday, June 1
But please pre-register to ensure your spot.
Find out More! Sherr Feldscher / 973 530 3425 or sfeldscher@jccmetrowest.org